Fal Alaeez Stud for Purebred Arabian Horses Al-Baha Region ​​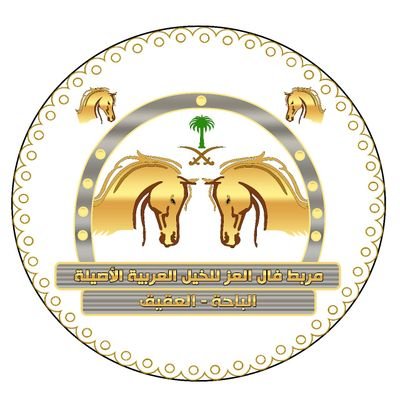 Report on International "Qpedia" Encyclopedia and Al-Saha TV Channel Visit to Fal Alaeez Stud for Purebred Arabian Horses as Part of their Tour to Al-Baha Region ​​
10–13 Jumada Al-Awwal, 1440
Fal Alaeez Stud for Purebred Arabian Horses
In light of our beloved government's efforts and our pursuit to preserve our popular heritage, this self-help stud was built by enthusiastic young people passionate about horses and equestrian sports. It is one of the first studs to be approved in the region – by the King Abdul Aziz Arabian Horses Center, in 27/02/1438 Hijri – with a Board of Directors working within the scope of specific plans and strategies, which aim to transform the stud into a school for training and teaching equestrian sports in the region. Thankfully, the stud was approved by the Saudi Equestrian Federation, in 27/03/1438 Hijri, as the first school for training and teaching equestrian sports in the region, known as Fal Alaeez Equestrian Club.
The stud seeks to maintain and develop equestrian sports, encourage and support lovers and owners of horses and ultimately become an entertainment and tourist attraction in the governate and in the region as a whole – through promoting equestrian sports and utilizing the stud's components and elements.
The stud looks forward to promoting equestrian sports; providing best services to owners and horse-riders interested in owning purebred Arabian horse breeds; training them in various fields; raising social awareness about the importance of equestrian sports and elevating the region's profile by participating in equestrian races held in our beloved Kingdom.
Abeian Saifi.
Seqlawi Jadrani.
Croche.
The stud possesses over 15 horses.
A stable for horses containing rooms and architecturally beautiful fields suitable for such horses and their activities.
A highly experienced stableman capable of dealing and caring for horses.
A highly qualified equine veterinarian to provide medical care, trim and shoe horses' hooves.
The stud hosts horses, for horse breaking, with nominal fees for healthcare services.
A chalet consisting of a men's section, a women's section, a swimming pool, a volleyball court and green spaces.
The stud has many participations, including:
Social Participations:
Participated in a number of marches in the reception of His Royal Highness Prince Dr. Hussam bin Saud bin Abdul Aziz.
Participated in Saudi Arabia's National Day celebrations in Baljurashi governate.
Participated in United Nations' International Day of Persons with Disabilities in association with the Handicapped Children Association in Al-Baha region.
Participated in World Autism Day with King Fahad Hospital in Al-Baha.
Participated in the Quran Memorization Association in Aqiq governate by offering rewards for memorizers of the Quran.
Races Participations:

Participated in the Arabian horse race at the level of tribes in 1437 Hijri, held in the region of Riyadh, and obtained the second place among 14 horses.
Participated in Al-Mikhwah governate spring events in Al-Baha region, 1438 Hijri, in the Marathon of Al-Mikhwah and won the first place among 15 horses.
Participated in Al-Baha summer events, 1439 Hijri, specifically in the speed race organized by Aqiq governor, and won the first place in the two rounds.
The stud aspires to:
Hold the first show jumping regional championship.
Hold the first Arabian Horse Beauty regional championship.
Provide all kinds of services to owners, trainees, and tourists.
Have an integrated veterinary clinic concerned with horses and their diseases.
Have sponsors and supporters for holding and sponsoring the championships that the club seeks to hold.
Attain material and moral support from the competent authorities.
الكلمات الدلالية :
المربط, الفروسية, الخيل, العربية, الأصيلة, المنطقة, رياضة, مستوى, اعتماده, الباحة, الحمد, اليوم, المركز, للخيل, الخيول, محافظة, الأول, جمعية, الحمد., تقديم, يتطلع, منطقة, لتعليم, العزيز, بالمنطقة, المخواة, فعاليات, المحافظة, للفروسية, النادي, العقيق, العالمي, وتدريب, الملك, عالية, لمسابقة, مشاركات, بطولة, إقامة
مساهمات ومشاركات الأعضاء (0)
لا تتوفر مساهمات في الموضوع بالوقت الحالي
هل لديك إضافة أو تعليق على الموضوع سجل مساهمتك لنشرها