Rhagdan Forest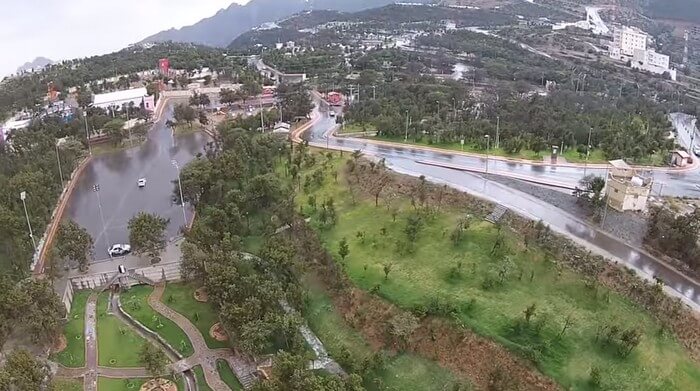 Report on International "Qpedia" Encyclopedia and Al-Saha TV Channel Visit to Rhagdan Forest as part of their Tour to Al-Baha Region
10–13 Jumada Al-Awwal, 1440
Raghadan Forest
Raghadan forest is situated west of Al-Baha city and abounds in trees and natural vegetation. It is home to all summer events organized by Deyaar Al-Eez Organization, which
exerts great efforts upon directions of the Tourism Promotion Committee headed by Al-Baha Governor His High Royal Highness Prince Dr. Hussam bin Saud Al Saud.
It is another tourist spot in Sarat characterized by mild temperatures all summer long. Due to its location on a rocky cliff overlooking Aqbat King Fahad, a mountain pass, and ascending to an altitude of over 1,700 meters above sea level, fog engulfs the mountain peaks and climbs up to this forest especially at dawn and noon and even late at night. In the summer, temperatures are mild to cold with rainfall. Apart from its towering altitude, what distinguishes this forest as a natural beauty is the fact that it enables a panoramic view of the vast plains and deep valleys of Tihama area reachable by Aqbat King Fahad, an important mountain pass that connects Al-Baha with Sarat. Natural vegetation is another aesthetic dimension of the exquisite beauty of this forest. Given its vicinity to the center of Al-Baha region, Raghdan forest is easily accessible round the clock.
Summer Events:
Seminars, lectures, traditional games along with tourist events organized by Deyaar Al-Eez Organization.
Services:
Mosques, toilets and restaurants, making it teem with life during summer.
Kheera Forest
Kheera forest is another picturesque park that abounds in trees and has a waterfall. It is a wonderful forest consisting of rocky cliffs and tantalizing views, and one where annual mountain rally championships are held.
It is characterized by an excellent vegetation, assembling Arar trees and mountain olive trees. It offers a spectacular view to Wadi Jader, Wadi Al-Amer dam and Wadi Marar in Baidan.
At the top of its peak is Prince Mishary bin Saud Al Saud Park, where services are available to vacationers and tourists.
Further to the north of the forest, there is Bir al-Qelt waterfall, which runs mostly all year long especially during rainfall, with its water streaming down to Wadi Al-Amer Dam. To the east, there is Wadi Al-Musamah, which is a part of Qarn Dhabi and is renowned for producing wheat.
الكلمات الدلالية :
الغابة, المنطقة, النباتي, الباحة, تتميز, الصيف, الفعاليات, السياحي, منطقة, وتقام, الغابة., فعاليات, ساعات, الملك, بالباحة, إليها
مساهمات ومشاركات الأعضاء (0)
لا تتوفر مساهمات في الموضوع بالوقت الحالي
هل لديك إضافة أو تعليق على الموضوع سجل مساهمتك لنشرها