Mount Gharib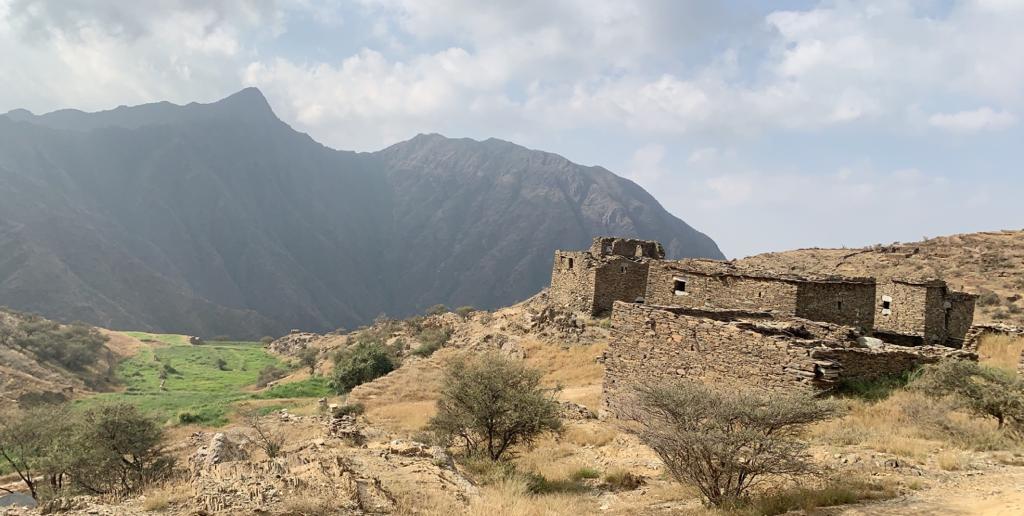 Report on International "Qpedia" Encyclopedia and Al-Saha TV Channel Visit to Mount Gharib as Part of their Tour to Al-Baha Region
10 – 13 Jumada Al-Awwal, 1440
Mount Gharib is located in Qilwah governate in the village of Al-Ghabshah. Ascending to approximately 1,500 meters above sea level, the mountain overlooks Qilwah governate and its valleys.
At the mountain summit, there is a number of agricultural lands and ancient houses built with stones. Surrounded by astonishingly amazing landscapes, Mount Gharib's height attracts tourists visiting Al-Baha region, with its high altitude and varied terrain. It is cold, rainy in the winter, and mild in the summer, although it lies in the heart of Tihama, which is known for its hot summer.
Mount Gharib is also characterized by the growth of many different plants, including Aden, Alshar (Coleus forskohlii), Sedar (Ziziphus spina-christi( and many other traditional plants used for decorations such as Kadi (Pandanus tectorius), Rayhan (great basil), Baitheran (Artemisia) and wildflowers. Treasures of history can also be found within the rocks of the mountain, narrating stories of human existence in this place for thousands of years. It is rife with ancient sculptures and historic inscriptions, not to mention the antique houses built with stones and wooden doors, a scene that beautifies villages around the mountain.
Mount Gharib is renowned for growing coffee and other crops in ancient times due to its plentiful agricultural fields, with its summit being a safe haven for birds and animals.
People of the governate wish to go back to grow crops and make the mountain teem with life once again. However, they are unable to do so due to the lack of electricity and safe roads. Nevertheless, thanks to the efforts exerted by the Principality of Al-Baha region, roads are being maintained and electricity is being installed, too. For the time being, though, four-wheel cars are the only means of transport capable of reaching the top of the mountain.
Still, Mount Gharib is a desired destination for anyone wishing to behold the beauty of nature. It has terrific archeological designs ranging from bewildering agricultural fields to astounding ancient houses in addition to the great generosity and hospitality of its inhabitants who always take initiative to welcome all visitors from the region and beyond.
This report was prepared in cooperation with Mr. Fahad Al-Ghabishi
الكلمات الدلالية :
الجبل, الغارب, منطقة, القديمة, مدرجات, الزراعية, الباحة, يتميز, الطريق, »الغارب«, زراعية, نباتات
مساهمات ومشاركات الأعضاء (0)
لا تتوفر مساهمات في الموضوع بالوقت الحالي
هل لديك إضافة أو تعليق على الموضوع سجل مساهمتك لنشرها