Report on International "Qpedia" Encyclopedia and Al- Saha TV Channel Visit to Al-Baha Region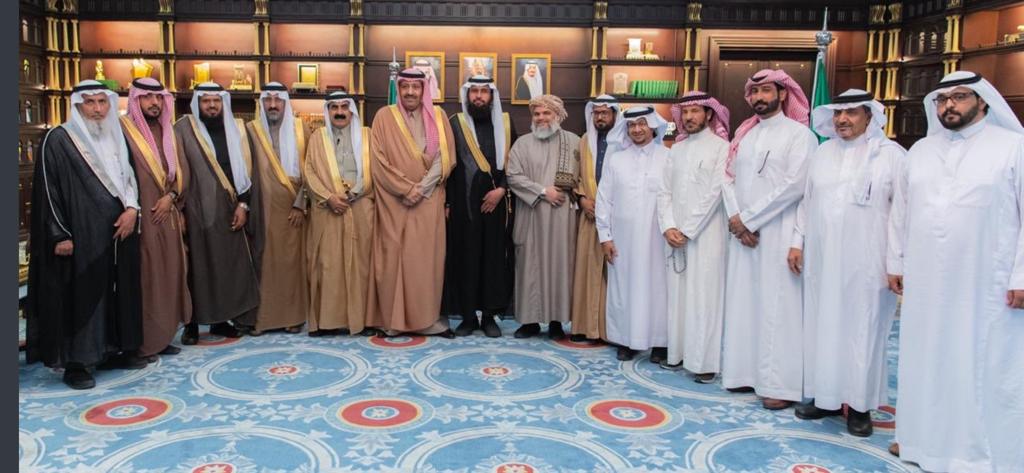 10 – 13 Jumada Al-Awwal, 1440 AH
(Al-Baha: A Region of Rich History and Charming Tourism and Civilization)
Current Administrative Governor:
The delegation met with His Royal Highness Prince Dr. Hussam bin Saud bin Abdul Aziz Al Saud at the beginning of the visit.
Location:
Al-Baha, the region of Ghamid and Zahran, is situated in the southwestern part of Saudi Arabia between longitudes 41° 42° and latitudes 19° 20°.
Administrative Boundaries:
It is surrounded by a number of cities, including Bisha to the east, Taif and Al-Lith to the west, Ranyah, Turubah and Taif to the north and the coastal city of Qunfudah to the south.
Area:
Al-Baha region sits on an area of about 200 kilometres long, from west to east, and around 180 kilometres wide, from south to north.
It consists of high peaks with an altitude of 2,800 to 3,000 meters.
The region covers an area of about 36,000 kilometres.
Topography:
The region's topography is divided into five sectors:
A highland area in As-Sarat, rising 2,200 to 2,300 meters above sea level, with high peaks topping 2,800 to 3,000 meters.
A mid-highland area in As-Sarat, where peaks reach an altitude of 1,800 to 2,200 meters, encompassing agricultural valleys.
A relatively lowland area (Shebh As-Sarat at the far east and north-east, consisting of grazing areas not higher than 1,600 meters).
Al Asdaar area, plural of Sadar, located between As-Sarat and Tihama.
Tihama plains; divided into four sectors:
A coastal area.
A parallel area to coastal regions.
A mountain area, which runs parallel to As-Sarat Mountains; Shada Al Ala (Higher Shada); Shada Al Asfal (Lower Shada); Niss Mountains and Mount Raba.
Sheeh Sarrat area, a part of Ghamid Al Zanad.
Climate:
The variation in topography influences the climate of the region.
- In highland areas, the climate is moderate in the summer and cold in the winter.
- In lowland areas such as Tihama, the climate is extremely hot in the summer, mild in the winter and rainy during both seasons as the area is located at the centre of the Sudan Trough (The Red Sea).
Agriculture:
Al-Baha, the region of Ghamid and Zahran, is an agricultural region where people rely heavily on growing crops and where agricultural terraces abound.
Agricultural Crops:
Al Hunta (wheat(.
Barley.
Al Balce (lentil).
Millet.
All types of corn.
Dates produced in Aqiq governate and Thee Ain.
Grapes.
Pomegranate.
Peaches.
Apricot.
Bananas.
Hijazi Almonds.
In the eastern side of the region, there are grazing pastures for sheep and camels in the countryside of Aqiq and Bani Kabeer.
Population:
The region is mainly inhabited by the tribes of Ghamid and Zahran, who descend from Qahtanian Azad and Shenou`a. Ghamid and Zahran share a common great grandfather; Kaab. Zahran and Abdullah are brothers and Zahran is Ghamid's uncle. The population of the region now is 413,000.
The tribe of Ghamid is divided into three groups:
Urban Ghamid in As-Sarat.
Rural Ghamid in the foothills of As-Sarat.
Urban and rural Ghamid in Tihama.
The tribe of Zahran is divided into two groups:
Urban Zahran in As-Sarat.
Urban and rural Zahran in Tihama.
Customs and Traditions:
The people of the region of Ghamid and Zahran are known for their generosity, bravery and hospitality. They are known to help soon-to-wed couples and provide assistance to those in need by offering money and support enough to compensate for what is lost or damaged. Back in the day, they would go from one village to another on foot to walk the bride to her groom. On their way back, the bride and groom would stop at every village and receive a warm welcome from its inhabitants who would celebrate their arrival by performing Ardah, a type of folkloric dance. Because of this kind and generous tradition, it would take several days for the couple to go back to their village.
Cuisine:
Traditionally baked bread.
Al Daghabees.
Al Asseda.
Local Kabsa.
Folklore:
Al Mashabani.
Al-La'eeb.
Al-Harmooj.
Melodies:
Tarq Al-Jabal, Al-Mijalsi and Al-Hadda'a. There are traditional songs sung on various occasions, including cultivation, harvest, building, circumcision, the return of a traveller, the appointment of a tribe head and the delivery of a child.
Dress:
Traditionally, people of highlands usually wear an ankle-length garment called thawb with a Jibba, a coat woven from pure sheep wool worn over the thawb for warmth. Inhabitants of the region adorn themselves with swords, daggers (Janbiah), and rifles. While wearing such clothes, they ride horses, which are typically kept by tribal chiefs.
Archaeological Sites:
Thee Ain
Houses of Sheikh Al-Raqoush.
Houses of Sheikh Al-Atawla.
Asham archaeological village.
Al Feel, Mashouqa route.
Graves of Al Zeinat in Bani Kabeer.
Bakhroush castle.
Ghatet archaeological village.
Al Khulaf & Al Khulaif villages in Tihama.
Tourist Destinations:
Raghdan Forest Park.
Kheera Forest and Prince Mashari Park.
Al Shukran Park in Baljurashi.
Amdan Forest in Zahran.
Al Qeam Park in Al Baha
Al-Baha museums in Daws & Belgourashi.
Mount Shada Al Ala (higher Shada) .
Al Shaer valley in Zahran.
Daws Parks in Zahran.
Administrative Districts and Cities in Al-Baha – Ghamid and Zahran:
Al-Baha city, the administrative capital comprising the region's principality and all government departments.
Al Mandaq governate in As-Sarat.
Belgourashi governate in As-Sarat.
Al Mikhwah governorate in Tihama.
Al Qura Al Atawlah governorate in As-Sarat.
Al Hajra governorate in Tihama.
Aqiq governorate in As-Sarat.
Beny Hassan governorate in As-Sarat.
Ghamid Al Zanad governorate in Tihama.
Qilwah governorate in Tihama.
References:
In the Sarat of Ghamid & Zahran; authored by Hamad Al Jassir.
The Gazetteer of Ghamid & Zahran Region; authored by Ali Saleh Alsalouk.
Ghamid & Zahran; Al-Sukan Wa Al-Makan; authored by Ali Saleh Alsalouk.
Mr. Abdullah Saleh Alsalouk
Al Baha 2019 AD – 1440 H
Visited governates and sites:
Qilwah
Aqiq
Daws
Bin Misbah Museum.
Mount Gharib.
Al Khulaf & Al Khulaif villages.
Stud of Fal Alaeez.
Mount Shada.
الكلمات الدلالية :
منطقة, محافظة, الباحة, وزهران, المنطقة, المناطق, السراة., زهران, السراة, الشرق, العقيق, الحاضرة, بتهامة., أهم, تهامة., كيلومتر, الجنوب, تهامة, ارتفاعها, تنقسم, المرتفعة, الارتفاع, البحر, الأعلى, الشيخ, والبادية, معتدل, بزهران., الغرب, الشمال, أقسام, عالية, والخليف, وقبيلة, الحالي, والتقاليد:, الموقع:, الحاكم, الإداري, السكان:, القرية, العادات, السلوك, يقومون, المناطق, الإدارية, المساحة:, التضاريس, السياحية:, العودة, الزراعية:, صيفاً, الاثرية:
مساهمات ومشاركات الأعضاء (0)
لا تتوفر مساهمات في الموضوع بالوقت الحالي
هل لديك إضافة أو تعليق على الموضوع سجل مساهمتك لنشرها