Lowering blood pressure protects against heart attacks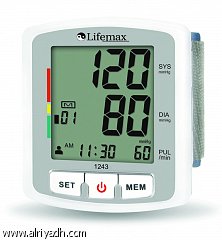 Preliminary results of a comprehensive study sponsored by the US government indicated that the lowering blood pressure below the normal level significantly reduces the incidence of heart attacks and reduces the mortality resulting from it among adults aged 50 years and above.
In the study - which involved more than 9300 of patients with high blood pressure, a combination of drugs have been used to reduce arterial systolic blood pressure level to 120 of 140. The risk of heart attack, stroke and disorder of heart function decreased almost by a third and the risk of death reduced by almost a quarter.
Gray Gibbons, the director of the National Institute of Heart, Lung and Blood who supervised the study, said in a statement, "This study provides information to save the life, which is of interest to health care providers whom are considering the best treatment options for some of their patients, especially those over 50 years of age."
The researchers warned that the final analysis of the results of this study has not yet been completed and that the medical authorities are working on examining the study data to determine whether it requires adjusting the present medical practices or not. The researchers said that it is not yet clear how many patients need to intensify therapy to lower blood pressure.
Most of the hypertension treatment drugs are categorized under major classes including angiotensin receptor blocker, calcium channel blocker, angiotensin converting enzyme and diuretics.
During a conference for discussing this study, doctors said that the systolic blood pressure of 120 and diastolic blood pressure 80 is desirable but commonly the targeted blood pressure is 140/90. They pointed to the absence of real consensus among doctors about that matter. The ages of the patients involved in this study, which took place between 2010 and 2013, were around 68 years old and 25 percent of them were over the age of 75 who are susceptible to heart and kidney diseases, the study did not include patients who suffered from stroke or diabetes before.
الكلمات الدلالية :
الدراسة, الانقباضي, الأطباء, القلبية, بواقع, ارتفاع, مخاطر, المرضى, بصورة, القلب, الدماغية, الانجيوتنسين, الطبية, الباحثون
مساهمات ومشاركات الأعضاء (0)
لا تتوفر مساهمات في الموضوع بالوقت الحالي
هل لديك إضافة أو تعليق على الموضوع سجل مساهمتك لنشرها