Mount Shada Al-A'la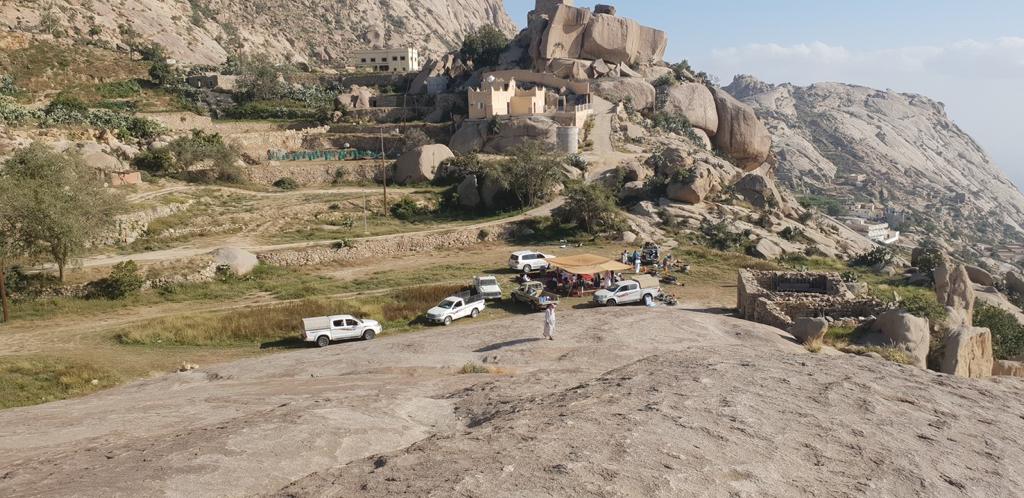 Report on International "Qpedia" Encyclopedia and Al-Saha TV Channel Visit to Mount Shada as Part of their Tour to Al-Baha Region
10–13 Jumada Al-Awwal, 1440
Location:
Located between Qilwah and Al-Mikhwah governates south-west of Saudi Arabia, Mount Shada Al-A'la (Higher Shada) is the highest peak on the plains of Tihama. Its apex stands at 2,200 meters above sea level, overlooking Al-Baha region that sits on the mountain ranges of Sarawat.
Climate:
Enjoying a climate characterized by the warm breeze of winter and the mild sunrays of summer, Mount Shada is a great tourist destination, with over 500 different types of plants and abundant greenery.
Mount Shada is mentioned in ancient literature, such as Mu'jam al-Buldan by Yaqut al-Hamawi.
Hanging onto the mountainside are many old villages, including Al-Qabsa, the highest village renowned for farming Shadawi coffee bean, a rare type of coffee with a unique flavor that makes it the finest coffee bean in the Arabian Peninsula. Among other villages are Al-Salaten, Al-Malaleh, Al-Masa'adah, Al-Qafrah, Al-Malek, Al-Qura, Al-Sour, Al-Saqran, Al-Jouh and Al-Arba' villages.
References:
This report was made possible in cooperation with Mr. Ali Jam'an Al-Shadawi
الكلمات الدلالية :
الأعلى, , الجبل, ضمنها, الشدوي, أنواع
مساهمات ومشاركات الأعضاء (0)
لا تتوفر مساهمات في الموضوع بالوقت الحالي
هل لديك إضافة أو تعليق على الموضوع سجل مساهمتك لنشرها